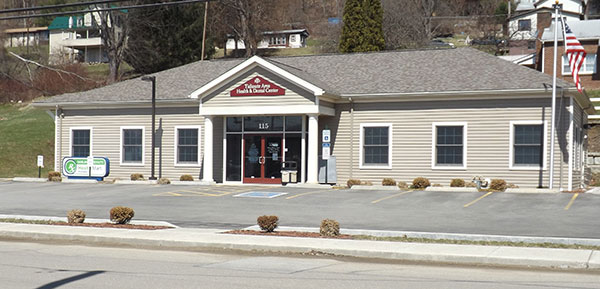 Tidioute Area Health & Dental Center
We are a non-profit organization made up of all volunteer Tidioute residents. We organized in 2008 and received donations and one State Grant to enable us to construct the building you see in the picture above that houses a Health Center to which Titusville Area Hospital now provides service two days a week.
This is the only facility of its kind in the southwestern portion of Warren County. It is owned by the individuals and businesses that donated during our first fund raising campaign, and the organization.
We, the organization, pay property taxes, insurance, and fees. We are responsible for building maintenance, yard and parking lot maintenance (summer & winter), and overall upkeep of the building, parking lot, and the adjacent parking lot across the street.
Current Projects/Needs:  We are currently requesting donations to help restore our maintenance funds after having to install a new furnace & air conditioning system, along with an air exchanger system (to satisfy CDC requirements), and to prepare for a new tenant that will be moving into the old pharmacy portion of the building soon.  After a few needed renovations to accommodate their business, there will be a Credit Union in the downtown business area of Tidioute, along with a MAC machine eventually. Your donations will assist us greatly in helping to get this business started."
Contact: Denise Craft
Phone: 814-230-4486
Location: 195 Main Street, Tidioute, PA
Email:  denisecraftrpm@gmail.com