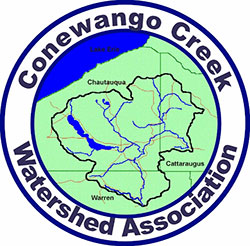 Thank you for all your past Support!!!
Conewango Creek Watershed Association (CCWA) will celebrate its 20th Anniversary This Year!!!
CCWA Mission is to promote the health of Conewango Creek so that landowners, citizens, visitors and municipal officials together take an active role in sustaining the resources of the creek and its watershed. Our main focus is education and hands-on experiences that improve the creek, watershed and re-connect people to the water. We focus on free or inexpensive education, practical solutions and hands-on experiences for local citizens.  Together we can have an IMPACT!
Current Projects/Needs:
CCWA Has organized over 20 stream, lake and watershed cleanups over the past 12 years.  We have removed tons of trash, hundreds of tires.  Hundreds of volunteers have donated thousands of hours to this effort.  People notice this improvement and thank us often.  Dozens of Businesses have supported CCWA in our efforts with in-kind and cash donations.
Watershed Cleanups:  Last year we cancelled our events due to the COVID 19 pandemic.  This year we will have our two cleanups but they will be virtual, so this is a whole different kind of event.  The Spring Watershed Cleanup will run from May 1 through May 31.  One of the biggest benefits to running it this way is that participants have all the flexibility to help out when, where and how they want to.  We ask that people register ahead of time, do a cleanup on their own following current COVID rules and then report back to us.  We are planning some challenges to make it interesting and will keep people posted on social media to create more community interest.  Watch our website for more details as they develop.
Chautauqua-Conewango Consortium- A Waterkeeper Alliance Affiliate:  A dedicated group of concerned individuals came to CCWA wishing to form a Waterkeeper Alliance Affiliate group.  Throughout 2019 and 2020 we worked together with this group to apply and get approved to be an official Affiliate of the Waterkeeper Alliance.  It is operating as a committee of the CCWA.  We encourage you to check them out at their new website:   www.cccwaters.org.
Water Quality Monitoring:  We have a team of volunteers who are monitoring local water bodies.  This year we will buy supplies and have another training to expand our program (COVID pending).  People love to do this and we are getting some baseline data for our local streams.
Safe Drinking Water Clinics:  We plan to have several safe drinking water clinics that educate homeowners about their private water supplies such as wells.  They learn how protect their wells, and get free water testing while learning what the tests mean.  Research studies from Penn State Cooperative Extension indicate that a vast majority of landowners have never tested their wells, while at the same time as many as 70% of private water supplies may have a health-related contamination that the owners are not aware of.
Past Projects:  We have had rain barrel workshops, educational speakers, support the three County Envirothon Competitions, planted a rain garden, planted stream buffers, given talks, sponsored the 2015 PA River of the Year" for Conewango Creek among other projects.  CCWA is also the official sponsor of the Conewango Creek Water Trail.
We thank all past supporters!!!  We couldn't do what we do without the support of so many in our community!
Contact: Elizabeth Dropp
Phone: 814-726-1441
Address: 4000 Conewango Ave., Warren, PA 16365
Email: edropp@conewangocreek.org
www.conewangocreek.org