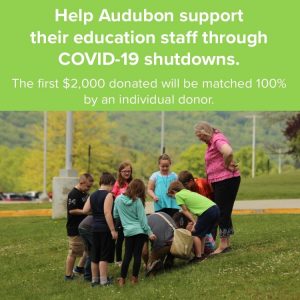 Mission: Audubon Community Nature Center (ACNC) builds and nurtures connections between people and nature by providing positive outdoor experiences, opportunities to learn about and understand the natural world, and knowledge to act in environmentally responsible                                                                           
Current Projects/Needs:

Each year, Audubon Nature Educators interact with 2,000 plus Warren County Elementary School students at least twice to deliver environmental education programs. Additionally, Audubon Educators provide Warren County second and fourth gra​de students with outdoor school yard programs which show students what's living just outside their classroom windows. First and third graders get to participate in a field trip to the Nature Center where they participate in discovery walks led by Audubon staff and volunteers.
This year, of course, things are different for Audubon as they are for everyone. Due to the recent local school closures in addition to the Nature Center closure related to COVID-19, ACNC will not be able to deliver programming as they have in the past. This will result in a significant reduction in income for the organization, which in turn directly effects the Audubon Education Staff. 
Your Warren Gives Donations are more important than ever this year. Audubon Educators are counting on you to help ensure that they can maintain their jobs through this crisis. Your support means that ACNC will be able to return to providing high quality environmental education programs at the same level that they were prior to the COVID-19 outbreak. The first $2,000 of donations made through Warren Gives will be matched by a private donor and long time supporter of ACNC. ACNC's goal is to raise a total of $4,000 in addition to the already committed match. Your donation to Audubon Community Nature Center ensures that every child within our community has a real and healthy connection to nature.
Vision: ACNC envisions a future where every child within our community has a real and healthy connection to nature.
Contact:Leigh Rovegno / lrovegno@auduboncnc.org
Phone: (716) 569-2345
Location: 1600 Riverside Road, Jamestown, NY 14701
Email Address:   lrovegno@auduboncnc.org
Website:  auduboncnc.org
Facebook
Twitter