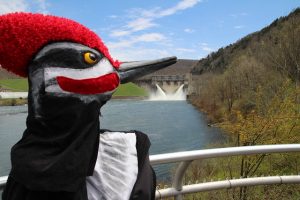 Mission: Audubon Community Nature Center (ACNC) builds and nurtures connections between people and nature by providing positive outdoor experiences, opportunities to learn about and understand the natural world, and knowledge to act in environmentally responsible ways.                                                                           
Current Projects/Needs:
Warren County Nature Based Programs
Warren County residents have been taking advantage of the Nature Center's trails which have remained open free of charge to the public throughout the COVID-19 pandemic. More than 1,000 people have visited the Nature Center's trails each month between September 2020 and April of 2021.
Unfortunately, Audubon has not been able to visit Warren County schools in the 2020-21 school year due to the COVID-19 pandemic. While they have been able to provide some virtual classroom programs, ​they just aren't the same.  Audubon's Nature Educators look forward to returning to Warren County classrooms and school yards very soon so that they can continue creating real and healthy connections to nature with Warren County children.
In lieu of supporting classroom programs, the money raised through Audubon's 2021 Warren Gives donations will support a Warren County based program series provided by Audubon's trained Nature Educators. Programs will be designed for a wide variety of ages, and will feature the natural wonders of Warren County from wildflowers to waterfalls. For more information on these incredible nature-based Warren County programs visit auduboncnc.org and click on 'Upcoming Programs'.
Vision: ACNC envisions a future where every child within our community has a real and healthy connection to nature.
Contact:Leigh Rovegno / lrovegno@auduboncnc.org
Phone: (716) 569-2345
Location: 1600 Riverside Road, Jamestown, NY 14701
Email Address:   lrovegno@auduboncnc.org
Website:  auduboncnc.org
Facebook
Twitter