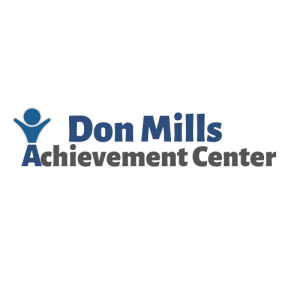 Don Mills Achievement Center provides assistance, education, and care to children, families, and individuals through programs that serve people of all abilities
Our Programs:
Early Childhood Learning Center – A licensed, private academic preschool serving children 3-5 years old with a developmentally appropriate curriculum in a socially and emotionally supportive environment
Rainbow Swim- A free, therapeutic, and recreational swim program for all ages that focuses on improving motor and social skills in cooperation with the Warren County YMCA
Operation Take Me Home – Electronic monitoring and tracking program to locate missing persons in the special needs community
Filling The Gap– In-home child care and in agency programs for families with children with exceptional needs, including Autism, Intellectual Disabilities, Mental Health needs, and Behavioral needs.
Current Projects/Needs:       
Don Mills is working to enhance our current programs by integrating technology and maximizing resources to better serve our children and families and expanding the agency by opening a new program that is a significant need in our community:
Key Moments Child Care Center- Don Mill's largest and most recent project is opening a year-round, high-quality, developmentally appropriate child care center for children ages six weeks to six years. This project requires extensive safety updates to be made to the building such as installing new fire alarm systems. It also requires major construction projects to the building such as adding emergency outdoor exit doors from classrooms as well as the necessary furnishings and supplies to meet the needs of the children.
Your generous donation will help us achieve our goals!
We have always relied on the kindness and support of our community in providing quality programs and services to people of all abilities.
Contact:  Madison Gurdak
Phone:  814-723-5730
Email:  info@donmillsachievementcenter.org
Website: www.donmillsachievementcenter.org