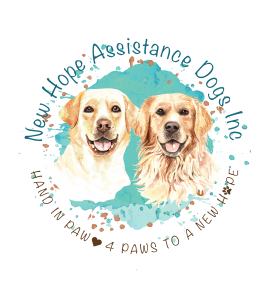 At New Hope Assistance Dogs, Inc., we have been helping people regain their independence with our Assistance Dogs for more than 20 years!  We are a charitable, 501(c)3 non-profit organization whose mission is dedicated to enabling dogs to enhance the lives of individuals with impairments and to educate the general public.  From young children to adults, we continue to stand by our promise to help people with health conditions and learning disabilities.  Our aim is to help individuals by placing more and more skilled and loving dogs to help give them "4 Paws to a New Hope".
New Hope is determined to help Veterans lead a more independent life. Since about 50% of our recipients are Veterans, last year during our 20th Anniversary we
implemented a dedicated Veteran Division in our program. Here one can interact and talk to other Veterans in our program, see how it has benefitted them, ask questions, and get tips that can help you once you get your dog. There are a lot of Veterans who don't have a good support system or don't have one at all. Here you will have the support of military brothers and sisters to help you through those tough times. Our Veteran support group, along with your monetary donations, will allow us to provide more dogs to more Veterans with PTSD, traumatic brain injury, trouble with balance, difficulty hearing, military sexual trauma, and more. With the help of an Assistance Dog, they can start to heal, find happiness again, and potentially reduce addictions and medication use. They can start enjoying things they love to do such as hiking, reconnecting with family and friends, attending events, going on outings, and or getting out of the house. All of this with the help of an unconditional loving 4-pawed buddy that will give them "A Leash to A New Adventure"!
As a Thank You for all they have given, we are honored to provide Assistance Dogs to Veterans qualified through our program at NO charge!
For more information about our organization and how you can make a difference, please visit our Facebook page or website at www.newhopedogs.net.
Current Projects/Needs:  
We are always looking for volunteers, puppy raisers, and grant writers.
Looking to upgrade our facilities by adding perimeter fencing, an updated agility course, and updating the living quarters that house Veterans when they come in for team training for the week.  Current dog needs are snuffle and lick mats, treat dispensing interactive puzzles, Yak cheese chews, Nylabones, leashes, crates, and dog training treats. We also are in constant need of old newspapers, old towels/linens/blankets, and cleaning supplies.
Contact: Tammy Rogers – President
New Hope Assistance Dogs, INC.
3 Scott Run Road
Warren, PA. 16365
Phone: (814) 726-1620
E-mail -info@newhopedogs.net
Website – http://www.newhopedogs.net
Facebook – New Hope Assistance Dogs Inc.