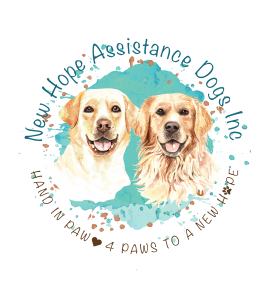 New Hope Assistance Dogs, Inc. is a charitable organization whose mission is dedicated to enable dogs to enhance the lives of individuals with disabilities and to educate the general public. This year we are celebrating our 20th Anniversary in helping individuals lead a more productive life with the help of an Assistance Dog. Hand in Paw – 4 Paws to a New Hope! We are also happy to present our brand new branding and logo, our new website and a special NHADI-Veteran Division, dedicated to our military family. We specialize in the placement of dogs with both Veterans and young children with special needs. There is no charge to Veterans who receive a Service Dog thru our organization. Our goal is to place more and more dogs with individuals in need and open up a program to help individuals train their own dogs for an Assistance Dog.
Current Projects/Needs:  
This year our fundraising goal is $72,000 and will help to place two Service Dogs with Veterans in need at no charge in Warren County. Purchase agility equipment- this will also be beneficial to individuals who want to train their own dogs for service work thru our program. Purchase a boiler and swap over gas to radiant heat in our main facility where the dogs are housed. Update our training area to better accommodate individuals with large motorized wheelchairs and special equipment and to install perimeter fencing around the property.
Contact: Tammy Rogers
Phone: 814-726-1620
Email: info@newhopedogs.net
www.newhopedogs.net
Facebook,Twitter,Linkedin