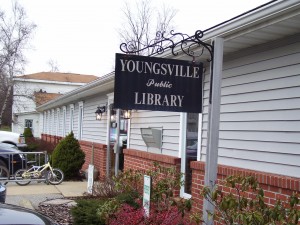 Your Gateway to Possibilities!
Youngsville Public Library (YPL) is an independent library that connects people with information, technology, ideas, and experiences to provide enjoyment, enrich lives, and strengthen our community, all of Warren County, and beyond.
YPL is a provider of "free to the public" eBooks, 24-7 high-speed Wi-Fi access,  summer reading and other outreach programming, free summer snack program, interactive children's area, DVDs, books, magazines, free monthly professional development workshops, digital courses/references, and much more! We also offer faxing, copying, and scanning services, for a nominal fee. If you haven't stopped by recently then you're missing out on all that YPL has to offer. Our Knowledge is Your Power.
Current Projects/Needs:
Immediate/short-range needs include:
Replace our broken public water fountain and plumbing line to connect the fountain.
Buy new chairs for our public seating and public computer areas. Because of COVID, we need new chairs for public use that can withstand being sanitized hourly. Currently, we are using borrowed "outdoor" lawn chairs.
YPL continuing needs include:
Purchase new circulation materials in ALL formats (from picture books to video games to eBook/eAudio).
Increasing programming/outreach opportunities with the purchase of programming supplies, digital databases,  and other resources to enhance our children, youth, and adult programs.
Maintain and update public use computer software and hardware.
Purchase digitization and preservation supplies for our ever-growing Brokenstraw Valley Historical Collection.
Contact: Kristy Wallace, Director
Phone: 814-563-7670
Address: 100 Broad Street, Youngsville, PA 16371
Email: YoungsvillePublicLibrary7@gmail.com
Website: www.YoungsvilleLibrary.org
Facebook: search Youngsville-Public-Library