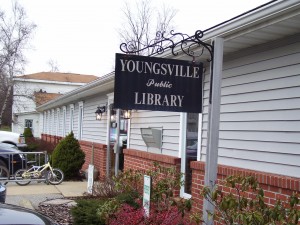 For Resources, For Technology, For Everyone!
Youngsville Public Library (YPL) is an independent library that connects people with information, technology, ideas, and experiences to provide enjoyment, enrich lives, and strengthen our community, all of Warren County, and beyond.
YPL's new and enhanced website is the "one-stop site" that you should be accessing daily no matter where you reside. Updated daily, at www.YoungsvilleLibrary.org you'll find current local news from the ENTIRE Brokenstraw Valley Area, a monthly community-events calendar, and easy access/links to a treasure-trove of information, reference material, and reliable sites for learning and leisure.
YPL is a free provider of eBooks, high-speed Wi-Fi access, faxing, copying, scanning services, summer reading programs, free summer snack program, interactive children's area, DVDs, books, magazines, free monthly professional development workshops, and much more. If you haven't stopped by recently then you're missing out on all that YPL has to offer. Our Knowledge is Your Power.
Current Projects/Needs:
*This year we desperately need to raise money to cover the costs associated with a major (and unexpected) construction project: capping our existing water and sewer line connections and then digging/installing new water and sewer lines from a completely different locale. Since the Youngsville Public Library is so closely sandwiched among surrounding homes, we are experiencing many unpredictable complications that unfortunately are adding to the cost of this must-do project. It is our hope that YPL will be able to raise over $10,000 through the WarrenGives event to help cover the costs of this daunting project.
*YPL always has a continuing need to (1) purchase new circulation materials in all formats, (2) maintain and increase programming/outreach opportunities for kids, youth, and adults, (3) maintain and update public-use computer software and hardware, and (4) purchase digitization and preservation supplies for our ever growing Brokenstraw Valley Historical Collection.
Contact: Kristy Wallace, Director
Phone: 814-563-7670
Address: 100 Broad Street, Youngsville, PA 16371
Email: Ypubliclibrary@gmail.com
Website: www.YoungsvilleLibrary.org
Facebook