Elk Township Historical Society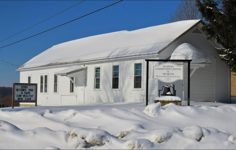 Scandia's One-Room School (1878 – 1999)
March 7, 2022  
The purpose of the Elk Township Historical Society is to promote an appreciation of Elk Township history and its natural environment, particularly the contribution of its 12 one-room schools. Another purpose is to provide a Community Center offering educational programs for all ages and a place for organizations to hold meetings and groups to hold less formal gatherings, such as showers and graduation parties. A spacious playing field, a well-equipped playground, and a modern pavilion provide the perfect rural setting for family reunions.   A  large lending library of thousands of books of fiction, reference, as well as a children's collection is offered free to the community.
Current Projects/Needs:
Repair the east wall of the 1890s wooden schoolroom.
Paint three exterior walls of the wooden school buildings.  (The fourth wall was restored and repainted in 2020.)
Re-caulk all of the windows.
Provide funding to preserve historical exhibits and digitize genealogical data collections in the Museum.
Contact: Dr. Julie Boozer
Address: 1094 Peterson Road, Russell, PA  16345
Phone: (814) 757-8701
Email: bobboozer@verizon.net