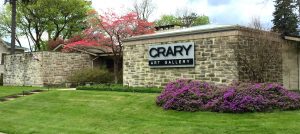 Established in 1977 as a private non-profit art museum by painter Genevieve Alden Walker Crary, in memory of her husband—industrialist, philanthropist, and accomplished photographer—Clare Crary, the Crary Art Gallery's mission is to promote the importance of visual art experiences through noteworthy temporary art exhibitions, educational opportunities and the display and conservation of historical works both collected and produced by the Crarys.
Together in art. 
The Crary Art Gallery makes art experiences accessible to everyone in the community and puts great care into selecting temporary exhibitions from near and far, which put Warren on the map as an important cultural center in our region while giving artists the opportunity to show their work in our beautiful mid-century modern facility.
Your donations help expand the reach of our marketing and promotion efforts and provide support for the conservation and preservation of the permanent collection. In advance, we thank you for considering the CAG among the organizations receiving your Warren Gives donations.
Contact: Ines Nelson, President of the Board of Directors
Address: 511 Market St., Warren, PA
Phone: 814-723-4523
Email: crary.gallery@gmail.com
Website: www.craryartgallery.org