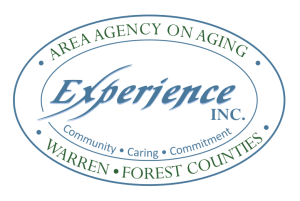 Mission: Founded in 1968, Experience, Inc. is a non-profit organization serving older adults as the Area Agency on Aging of Warren and Forest Counties.  Experience, Inc.'s primary focus is to advocate for and meet the needs of older people in order to help them age and live well.
Experience, Inc offers the following community support through its services, programs, and community centers:
*Home Delivered Meals & Community Center Meals
*Health and Wellness Programs
*In-Home Care and Care Management
*Medicare Counseling & Property Tax/Rent Rebate Assistance
Current Projects/Needs:
Sponsor a Senior for Meals – our suggested donation for an older adult to receive meals for 2 weeks is $30. Your donation will help support our meal service for those seniors who are not able to donate their $3/meal portion themselves. These donations are used to help offset our actual cost of nearly $7.00/per meal.
Silver Games – Each year Experience Inc. and the ACC partner with the YMCA to host a one-day, multi-sport event for participants age 55 and older where they can participate in three individual events and two team events with lunch and cash awards provided. It is truly a fun day that promotes socialization, fun, and wellness! This event is funded through sponsorship and donations, so your donation will go directly toward the cost of providing this health and wellness event to our community.
Intergenerational Programming with the Arts – Through innovative ideas and partnerships with the ACC, Music Conservatory, and YMCA, Seniors, and Kids are doing phenomenal projects together that include art classes, cooking & recipe sharing, and making music. Your generous donation will keep our efforts to bring older adults and children together through fun activities moving forward!
Contact:  Danell Sowers – Executive Director
Phone: 814-723-3763
Location: 905 Fourth Ave, Warren, PA 16365
E-mail:dsowers@experienceinc.org
Website: www.experienceinc.org   or  http://www.alleghenycommunitycenter.com
Facebook: Experience, Inc-Warren/Forest Area Agency on Aging | Facebook