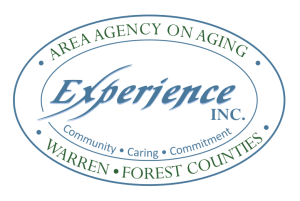 Founded in 1968, Experience, Inc. is a non-profit organization serving older adults as the Area Agency on Aging of Warren and Forest Counties.  Experience, Inc.'s primary focus is to advocate for and meet the needs of older people in order to help them age and live well.
Experience, Inc offers the following community supports through its services, programs, and community centers:
*Home Delivered Meals & Community Center Meals
*Socialization & Recreation
*Health and Wellness Programs
*In-Home Care and Care Management
*Medicare Counseling
Current Projects/Needs:
Sponsor a Senior for Home Delivered Meals – our suggested donation for a senior to receive meals at home for 1 week is $15. Your small donation will help support our meal service for those who are not able to donate their portion themselves.
Adopt an Animatronic Pet – We are launching a new program to address social isolation and loneliness experienced by seniors. The Pandemic has compounded this problem.  We have a program where we purchase animatronic pets that are lifelike and we give them to seniors found to be experiencing loneliness – based on our assessment.  These pets are easier for seniors to take care of than live pets, but they still interact with older adults and provide needed companionship.  This program is being launched solely with local funding and donations.
Allegheny Community Center & Tidioute Senior Center are our 2 older adult community centers located in Warren County. They offer meals to seniors by donation only and offer daily activities free of charge.  One example is the free VITA tax program for the community – doing taxes by donation only for those who can't afford to have them professionally prepared.  The ACC & Tidioute centers are here to help, whether it is supporting a social activity, providing a lunch, or getting people the information they need.
Contact:  Danell Sowers – Executive Director
Phone: 814-723-3763
Location: 905 Fourth Ave, Warren, PA 16365
E-mail:dsowers@experienceinc.org
Website: www.experienceinc.org   or  http://www.alleghenycommunitycenter.com
Facebook: Experience, Inc-Warren/Forest Area Agency on Aging | Facebook