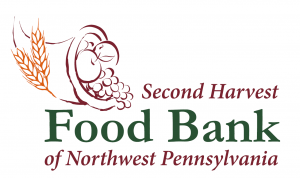 Second Harvest Food Bank BackPack Program
Mission: To provide food to those in need within eleven counties of northwest Pennsylvania while creating awareness and educating the communities on the realities of hunger.
Critical Needs:  Critical Needs: For many children, lunch in school on Friday is their last meal until breakfast in school on Monday. The Second Harvest Backpack Program in Warren County addresses the need for adequate food and good nutrition for children in poverty over their weekends. The BackPack Program provides needy children with nutritious, child-friendly food when other resources, such as school lunches and after-school meals or snacks, are not available. In preparation for distribution, Second Harvest selects and obtains the food and volunteers assemble the individual bags. Backpacks are discreetly distributed to participating children on 35 Fridays during the school year. Each backpack contains enough food for multiple breakfasts, lunches, dinners, and snacks. Depending on the type and amount of food items within the backpack, children are often able to share food with their siblings. The contents of a recent backpack include a box of Tasty-oh's cereal, beefaroni, chicken ravioli, macaroni and cheese, and a four-pack of mandarin oranges. In the most recent school year, Warren BackPack recipients included 239 students who qualified for free or reduced-cost lunch and who had parental permission to receive weekend backpacks. Students were enrolled in Eisenhower Elementary, Tidioute Charter School, Sheffield Elementary, Youngsville Elementary, and Warren Area Elementary academic year. In total, more than 8,300 BackPacks are distributed each year.
Contact: Brenna Watts
Phone: (814) 459-3663 Ext 114
Email: bwatts@nwpafoodbank.org