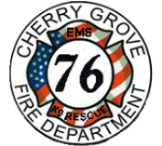 Mission: To protect the lives, property and welfare of, not only the residents of Cherry Grove, but also all of the surrounding communities. This includes protecting the Allegheny National Forest and its many visitors.
Current Projects/Needs:
We are currently looking to update our SCBA Airpacks to the current NFPA standards. We will be updating our AED's as well. Additionally, tools for our trucks, EMS supplies, road closed signs are just a few of the items we are looking to purchase.
Contact: Zane Johnson
Phone: 814-968-3511
Address: 6045 Cherry Grove Rd., Clarendon, PA
Email: info@CherryGroveVFD.org