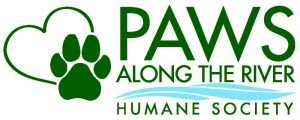 Mission: Paws Along The River Humane Society is committed to building lifelong bonds between people and animals through education, community outreach programs, and the prevention of cruelty.
Vision: We envision a time when our community celebrates the human-animal bond; embraces the mutual benefits therein; and treats all fellow beings with care, compassion, and respect.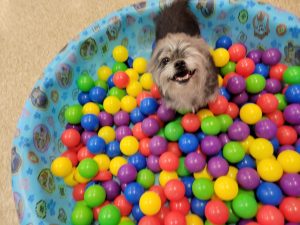 After the medical care PAWS provides each pet, we then turn to enrich the lives of the animals that are waiting for their forever home. Our new program is exciting for staff, volunteers and pets at PAWS. In January our quest to rehabilitate each pet's whole health began to take a new turn. We wanted to do more and provide more for all the animals at PAWS. The exciting part is, that these ideas can also be used at home with your pets. To help fight boredom and help reduce their time in cages, our enrichment program addresses not only their physical health but also meshes their emotional and mental health with puzzles and activities that are fun. There is more interaction with humans. Think about Volunteering!
A shelter is a stressful place no matter what we do to change that fact, there are so many stimuli that can cause stress. Dogs barking, cats meowing, people walking in and out, cleaning routines going on, etc. Every dog and cat handles stress differently, but what they all have in common is the need for some type of normal family life, one-on-one attention. Enrichment games allow them to interact and use their minds. Just 10-15 minutes of mental stimulation will expend as much energy as a 30-minute walk. This can help them rest more comfortably. These activities help reduce the stress in their cages to help reduce negative behaviors.
Enrichment is essential in every pet's life and our volunteers and staff are embracing our new techniques to prepare these mind puzzles. It is not just fun, it is lifesaving! There is no better time to become a volunteer and there are things you can do from home to help. If you can't walk, you can work with our pets with enrichment activities. Pup-sickles, snuffle mats, lick mats, a pool of balls, treat puzzles, and much more. In a few short months, we have noticed huge changes in their ability to play and be dogs and cats
Contact: Karen Kolos
Address: 212 Elm Street, Warren, PA 16365
Phone: 814-726-1961
Email: Pets@PawsAlongTheRiver.org
Website: www.pawsalongtheriver.org
Facebook