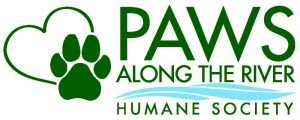 Mission: Paws Along The River Humane Society is committed to building lifelong bonds between people and animal through education, community outreach programs, and the preventions of cruelty.
Vision: We envision a time when our community celebrates the human-animal bond; embraces the mutual benefits therein; and treat all fellow being with care, compassion, and respect.   
Current Projects/Needs: Veterinary and Medical Care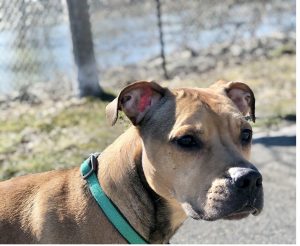 They Named Me Archie: Boy, was it cold on 2/27/20 and I was lost in a blizzard of snow and wind in the dark. I did not see the car coming down the road as I crossed over trying to find a warm place to go. I could feel my leg get hit by the car and instantly tried to get away.  Luckily, Rob who hit me stopped tried to catch me and called the police to help.  As they rescued me and put me in the police car, I knew these nice people were going to help me.
It seemed like just minutes before Conewango Officer Woodin put me in a cage and the shelter staff came in to look me over.  I heard them talking about how handsome I was and well cared for and they don't see many neutered dogs, so I must have gotten lost.  Surely someone would be looking for me!  I felt bad that I could not tell them that no one was looking for me.  I was dropped off and left as stray.  I had no ID or tags to find my owner.  The nice ladies at the shelter put me on a fluffy bed and cleaned the big cut on my leg.  They called the vet and gave me some medicine to feel better.  I was transported to the vet's office the next day where they gave me the once over and more.  Lucky my leg was not broken, but the hip joint went out of the socket. I had to have my leg put back in place in the operating room and then a fancy sling went on my leg to help it stay in place. The vet staff all made a fuss over me and said how nice I was and someone must be missing me.  I wish that were true… the police and the shelter put me on Facebook, whatever that is?  They took photos and everyone was asking who I belonged to.  But no one came or called. It will be almost 2 weeks, I am still at the shelter.  The sling came off and my joint popped out of the socket again.  So another two weeks to see if I can walk on my leg or I will need an expensive painful surgery.  Paws will keep you all updated on my progress.
Thank you Conewango Police Officer Woodin, Ron (who cared enough to stop and call for help), Kinzua Vet Clinic and Paws Along The River. You all helped save me from not only the cold, but my injuries.  Pets like Archie and many others are helped daily by many caring people and especially Paws.  Paws Along The River is committed to rehabilitation of all adoptable pets.
Oh, they named me Archie.  Love Archie
Contact: Karen Kolos
Address: 212 Elm Street, Warren, PA 16365
Phone: 814-726-1961
Email: Pets@PawsAlongTheRiver.org
Website: www.pawsalongtheriver.org
Facebook