Paws Along the River Humane Society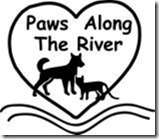 Mission: To adopt animals into responsible homes and vigorously promote the importance of spaying/neutering all pets. To provide shelter and kindness to homeless and abused animals. To foster humane education and cruelty programs, hoping for a kinder environment in which to live. We are a private non-profit Humane Society serving Warren County's animals. We promise a second chance to the homeless animals in need of our services.
Current Projects/Needs: Medical care and medications for sick, injured, neglected animals in need.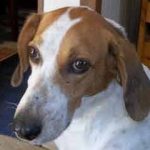 Bolt becoming McGhee a continuing story of determination, hard work and loving, caring people at Paws…
Can you believe that it has been a year since you have heard about me? Remember, I was running loose on Rte 62 and Rte 6 for nearly 3 weeks and was finally caught with the help of many caring people, including the State Police and Paws staff on March 14, 2017. I was sure skinny, hungry and scared then. I did not trust anyone, but when Paws took me in they changed my life. I was only 63 lbs. and they named me Bolt, because I kept bolting in and out of traffic when I was running loose.
You can watch my video and read my story from the beginning, but what is really exciting is what happened next. They were good to me at Paws. They gave me good food, gave me a bath, took me to the doctor, the ride in the van was scary, but I made it there and back. I needed medicine, special food, and lots of caring to help me heal. They kept taking me out of my kennel and brushing me and petting me. I was not used to being touched, so I kept trying to get away from everyone who came close. As time went by, it felt pretty good to be petted. Getting rid of several kinds of parasites helped me gain 13 lbs. and I did not feel hungry anymore.
If a male staff came to take me out of my kennel for playtime I would hide in the back of the kennel. I did not mean to be difficult, it was so scary. After many months of getting used to what I had to do, including in and out to play, there were still some things I never really got used to. I learned to walk on a gentle leader and some nice volunteer dog walkers came to take me out. I walked well on my gentle leader they told me and I enjoyed getting attention and my walks. I liked the night time best, because everyone would sleep and it would be quiet. I wish I could have told them that I had a tough life before coming to Paws. I heard the staff say that someone must have yelled at me or more. I don't like anyone talking loud and men are not my favorite, I wish I could tell you all what happened to me, but they have it right.
Angelica was my favorite person because she was very quiet too. She took care of me when I was in my kennel and took me outside to be with the other dogs for exercise and socialization. I started to get used to the routine; weeks and months went by as I healed. I started staying at the front desk after lunch when we opened, so I did not have to be in my kennel a lot. They tried a lot of ideas to continue to socialize me so someone would be interested in adopting me. I liked that because I could hide underneath the desk where no one could see me. Then one day, a nice lady came to volunteer in the office. She noticed me right away and said I was very nice and good looking. I heard that before, but she said it extra special. I know I am a nice guy, and yes perhaps good looking. I am a Walker Coonhound mix, you know.
The nice lady who liked me came more and more to help our office staff and paid attention to me a lot. One day she said, "I think I will take Bolt home". I was hoping she was serious and waited for a couple of weeks until she was ready to bring her two other dogs in to meet me. I like other dogs and other dogs like me so I was not worried. After the meet and greet, I heard them say, "We will take him!!!" The next step was to get neutered, all my vaccines updated at the doctor and wait to recover from my surgery.
The day came when everyone at Paws was excited, laughing and packing my overnight bag to go to a real home for a trial visit. Then came another bath, a fancy bandana and another ride in the van to my new home. My two brothers were waiting for me. They are so cool, my new brother, Bingo plays with me all the time and he shares his big bed with me too. I have a fenced in yard, so cool. I made Mom open and close the door a lot the first day. I could not believe that if I stand by the door, it opens. Then if I stand on the other side, it opens again. Like magic! Mom smiles all the time when she looks at me and thinks I am wonderful. It is nice to have someone who cares for me. Dad, well he is still scary sometimes, but he tries so hard to get me to come to him. I hope he is patient with me, 'cause I really like him and my new home, and when I know I am safe and feel loved, I will greet my new Dad at the door when he comes home. (P.S. I accidently gave my new Mom a kiss the other day and she was so excited she called Paws to tell the staff the good news. Humans get so excited over a little thing like a kiss.)
It has been a long journey and a year is a long time, but I was not able to go into just any situation. Paws worked hard to help find the right match for me. I'm happy Paws gives pets like me as much time as we need to find a forever home. I was adopted in March. Oh, along with a real last name, I even have a new first name, McGhee (my mom and dad watch NCIS) and I love it. Next step I get to meet the grandkids. Life is good!
Pets like Bolt (now McGhee) come to Paws frequently in need of veterinary and special care from neglect and abuse. Think about Bolt and all the others that need our help physically and financially to give them second chances. When you think of WARREN GIVES, think of Bolt and the care and help Paws Along the River provides nearly 800 pets a year in Warren County. Click here to see Bolt's story, his new second chance home, more photos and other stories…
Save the DATE… May 23, 2018, and donate to Paws Along the River Humane Society.
Contact: Karen Kolos
Address: 212 Elm Street, Warren, PA 16365
Phone: 814-726-1961
Email: Pets@PawsAlongTheRiver.org
Website: www.pawsalongtheriver.org
Facebook