Paws Along the River Humane Society


Mission: To adopt animals into responsible homes and vigorously promote the importance of spaying/neutering all pets.
To provide shelter and kindness to homeless and abused animals.
To foster humane education and cruelty programs, hoping for a kinder environment in which to live.
We are a private non-profit Humane Society serving Warren County's animals. We promise a second chance to the homeless animals in need of our services.
Current Projects/Needs: Medical care and medications for sick, injured, neglected animals in need.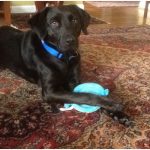 I am now, Jasmine…
On November 8, 2016, I was picked up on Route 6 by a nice man named Dennis. I was a stray. Dennis took me to Paws Along the River Humane Society ("Paws"). Paws tried to find my owner, putting ads in the paper, but no one came. Why did they leave me?
When I arrived, everyone at Paws said how pretty I was, but also how skinny I was. They made a fuss over me, which was a good feeling and I knew I was in a safe place. They gave me some shots to keep me healthy and nice blankets to keep me warm in my kennel. After my bath, I had an exam and heard them talking about how something was wrong with my leg or hip and they took me to two veterinarians. The doctors found my hip had "popped out of the socket". The doctors tried to put it back but it would not stay, that hurt. The only thing left to do was a big surgery…The surgery would allow me to run, play and walk better. …hmm, wonder if my old owners knew I needed vet care?
Besides my surgery…I needed a lot of other medical care at Paws, including tests to make sure I was healthy. One of the tests showed I had Lyme disease and a lot of parasites. Untreated Lyme can be very serious. I was getting a second chance and Paws was helping me. At Paws, I had daily exercise, met new friends, got my temperament tested… that was fun and I passed with flying colors, getting an A+!
Paws worked hard to get me the surgery I needed. With the help of kind donors and veterinarians, surgery day was here. After my surgery, the doctor said I needed to stay calm and not be too active. Always being an active girl (did I tell you I was a good jumper) it was hard following the doc's orders, but my hip healed. Paws staff was so kind and took good care of me for a long time.
The next step was getting my photo taken for adoption. I went viral on 5 different adoption sites. Being a lab mix helped.
On March 9, 2017, 4 months after coming to Paws my new Moms drove 3 hours to meet me… They said they only wanted me and it was love at first sight. I sure feel pretty special and am one lucky girl in my new home. I guess I am, spoiled and loved. Thank you Paws! Love Jasmine
Pets like Jasmine come to Paws frequently in need of veterinary care from neglect and abuse. Think about Jasmine and all the others that need our help physically and financially to give them a second chance. When you think of WARREN GIVES, think of Jasmine and the care and help Paws Along the River provides nearly 1,000 pets a year in Warren County.
Click here to see Jasmine's full recovery to her new second chance home, more photos and stories… http://pawsalongtheriver.org/pages/ABOUT/storyBook.php
Save the DATE… May 17, 2017 and donate to Paws Along the River Humane Society.
Contact: Karen Kolos
Address: 212 Elm Street, Warren, PA 16365
Phone: 814-726-1961
Email: Pets@PawsAlongTheRiver.org
Website: www.pawsalongtheriver.org
Facebook