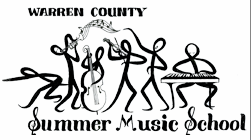 The mission of the Warren County Summer Music School is to encourage and develop the study, performance, and appreciation of the fine arts.
We look forward to our three-week program at Beaty Warren Middle School on weekday mornings from June 13–30. In addition to our traditional programming and returning faculty, we are pleased to add several new courses and welcome some new faculty members.
Current Projects/Needs:  Preparing for our 34th annual summer program, we offer instruction in music, theater, visual arts, and dance to students entering fifth grade and older, through adults. In order to make this affordable for our Warren County families, tuition covers only a fraction of the cost of the program. We are grateful for the support of the wider Warren County community.
Contact: Denise Pearson
Phone: 814-757-9451
Email: warrencountysummermusicschool@gmail.com
Website: www.wcsms.org