The Toy Shoppe of Warren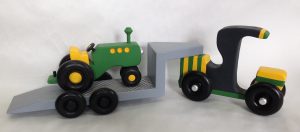 Mission: The Toy Shoppe was founded in 1999 by four retired gentleman who saw their mission to be twofold;
To produce 1000 wooden toys per year and distribute them to disadvantaged children in Warren County at no cost.
To provide a venue that would give retired senior citizens the opportunity to socialize, have fun, experience camaraderie and to stimulate their mental and physical skills in retirement.
Current Needs/Projects:
The Toy Shoppe has met the production goal of producing 1000 wooden toys per year every year. To keep up this level of production we need assistance with purchasing paint for decorating the toys, with purchasing new tools, replacing worn out tool parts, and purchasing some wood for toy production.
In addition, we need volunteers for painting and building toys. We have been losing volunteers over the past year's and this makes it difficult to keep up our production rate. Do not worry about not having experience, we provide training and safety instruction. You will be surprised at what you can do.
Contact: Patrick Williams
Phone: (814) 726-1641
Email: pjw@atlanticbb.net