Foundation for Free Enterprise Education/Pennsylvania Free Enterprise Week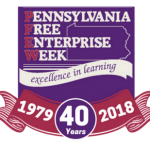 Our mission To heighten the awareness of Pennsylvania's youth about their future role in the American free enterprise system by delivering high-quality and practical hands-on learning experiences.
Current Projects/Needs: PFEW is the only model of its kind globally that provides students a weeklong residential experience with the unique opportunity of operating fictitious "corporations" using a computer model developed and licensed specifically for FFEE. In addition to those activities, students hear from world-class speakers throughout their seven-day journey on virtually every aspect of business and what is germane to the American economy in today's increasingly global marketplace. No other program offers such a model.
Contact: Leslie Williams
Address: 3076 West 12th Street, Erie, PA 16505
Phone: 814-833-9576
Email: leslie@pfew.org
Website: www.pfew.org
Facebook