Elk Township Historical Society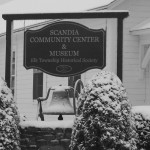 The purpose of the Elk Township Historical Society is to promote an appreciation of Elk Township history and its natural environment, particularly the contribution of its one-room schools. Its other purpose is to provide a Community Center offering educational programs for all ages and a place for organizations to hold meetings and groups to hold less formal gatherings, such as showers and graduation parties. A spacious playing field, a well equipped playground and a modern pavilion provide a lovely pastoral setting for family reunions.
Current Projects/Needs:
Repair and replace roof on 1962 school building known as The Community Center, which comprises the library, meetings rooms and supervisor's offices.
Replace an exterior door on the 1870's one-room school building.
Funding to improve storage of historical archives in the museum.
Funding to prepare historical exhibits in the museum.
Contact: Julie Boozer
Phone: (814) 757-8701
Email: bobboozer@verizon.net