Crary Art Gallery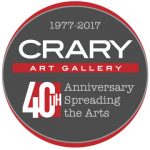 Crary Art Gallery was established in 1977 as a nonprofit art museum by painter Genevieve Alden Walker Crary in memory of her husband, industrialist, philanthropist, and accomplished photographer Clare Crary. The Crary Art Gallery is dedicated to enriching the region's cultural offerings through noteworthy temporary exhibitions, and the display of historical works both collected and produced by the Crarys.
Take a virtual tour of the Crary
Current projects/needs: The Crary is celebrating its 40th Anniversary this year with a very special exhibit of the private collection coming in August, along with special events to honor Gene and CJ Crary. Funds received through Warren Gives this year will be used toward curating the exhibit and promoting the events.
Contact: Ray Pring, Board President
Phone: 814-723-4523
Email: crarygallery@gmail.com
Website: www.crarygallery.org
Facebook