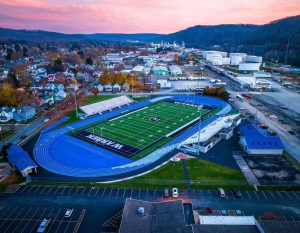 Mission: To enhance and enrich the athletic programs provided by the Warren County School district within the Warren attendance area.
Current Projects/Needs: The Warren Sports Boosters are currently replacing both the track and turf surface at War Memorial Field, with a total project cost of around $1.15 million dollars.
We are approximately $150,000 short of attaining this goal and appreciate the consideration of the generous supporters of the Warren Sports Boosters and War Memorial Field.
The stadium complex is a living memorial to all those who served in the Armed Forces as well as those who gave the ultimate sacrifice for the protection of our country. In addition to Warren athletic events, War Memorial Field is also a community center for wellness and activity, utilized by the YMCA as well as a number of non-profit and community organizations. We would appreciate your consideration of this worthwhile cause.
Thank you in advance for your donation.
Contact: Michael Boyd
Address: P.O. Box 643, Warren PA 16365
Email: bbc_75@yahoo.com