Russell United Methodist Community Outreach
Russell United Methodist Church is passionate about our community and its many needs. Our calling is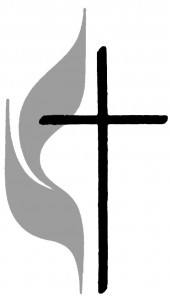 to reach out to others in the name of Christ by reflecting His teachings and believe through helping others we show the love of Christ in our actions. We can be consistently trusted to offer opportunities for Worship and Bible studies, help in time of need, and space for support groups; small groups; and quality Day Care services.
We provide the following outreach ministries: Shawl and Bear Ministries offer comfort for those who are ill, and Cozy Quilts to those with cancer; Food Pantry, Hands of the Carpenter for assistance in home improvements, and our Local Needs Mission provides gifts of financial support. Scouting and AA Programs, along with several other community organizations use our facilities each week.
Current Projects/Needs:
Our new Ministry Center is allowing us to more effectively serve our community. Pastor Jerome Kennedy, originally from Liberia, joined us last year and has established a dynamic youth program, having reached out to the local youth upon his arrival. He also used the center for an enlightening presentation to help raise awareness of the needs of the Liberian people, including fresh water, shoes and clothing. We are developing several programs to help meet these needs.
Contact: Don Nelson
Phone: 814-757-8493
Location: 17 North Main St, Russell, PA 16345
Email: blvden@gmail.com
Website: www.russellumchurch.org