Warren County 4-H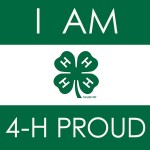 Mission: 4-H is national program that helps young people develop knowledge and skills to become capable, caring and contributing citizens. Membership in 4-H is open to all youth, ages of 5 to 19, without regard to race, color, religion, national origin, gender, disability, sexual orientation, or marital/parental status.
Youth in 4-H participate in all kinds of projects, events, and activities through local clubs, special interest clubs, school programs, and individual memberships. Members choose projects to fit their interests, abilities, and the places where they live. 4-H projects involve hands-on learning, setting goals, and evaluating progress.
Current Projects/Needs: The Warren County 4-H program in-conjunction with the Warren County Fair Association will use a portion of the funds raised through Warren Gives to support renovations at the fairgrounds in Pittsfield, Pennsylvania. The two programs have ambitious goals of placing a permanent structure over the bleachers at the main ring on the fairgrounds. The structure will provide shelter from inclement weather and offer handicap accessible views of the events taking place in the ring. Additionally the two programs will focus on equipment to properly groom the ring and a water system to keep the footing stable. Any and all support is truly appreciated by the 4-H program and the Warren County Fair Association.
Contact: Jennifer Grooms
Address: 100 Dillon Dr., Suite 101, Youngsville, PA 16371
Phone: (814) 563-9388
Email: jag46@psu.edu
Website: http://extension.psu.edu/4-h/counties/warren