Habitat for Humanity of Warren County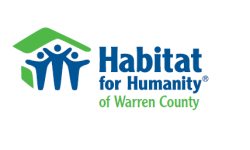 Mission: Habitat for Humanity International (HFHI) is a nonprofit, ecumenical Christian housing ministry. HFHI seeks to eliminate poverty housing and homelessness from the world, and to make decent shelter a matter of conscience and action.
Current Projects/Needs:
Recently, The City of Warren donated a property on Beech Street to Habitat, and we have designated that as our next project. Habitat will purchase construction materials for students at Warren County Career Center to use to build a house that will be moved to Beech Street.
Contact: Rocco DelPrince
Phone: (814) 688-8671
Address: PO Box 1473, Warren, PA 16365
Email: info@habitatwarrenpa.org
Website: www.habitatwarrenpa.org
Facebook
Twitter