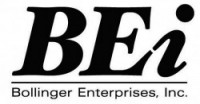 The Mission of Bollinger Enterprises, Inc., (BEi) is to enrich the lives of people with disabilities.
This Mission is achieved by:
* Bringing opportunities to people with disabilities that support independence at work, at home, and at play!
* Enhancing self-worth and enjoyment in life!
* Involving the community to make it happen!
Current Projects:
"Art as a Vocation" Project

Production equipment or workplace improvements to retain or expand work opportunities.

Program supplies for Adult Training Facility.
Contact: Dr. William Clark
Location: 44 North State Street, North Warren, PA
Email: clarkw@beiwarren.com
Phone: 814-723-8431
www.beiwarren.com
Facebook
Twitter